Marcia Mlynek
Alcohol Ink
About the Artist:
To use pure color in a liquid form, and then to apply it to a plastic surface (yupo) is absolute joy!
I have over the past seven years played with different chemicals as additions to the alcohol ink! This tweaking of the ink causes the ink to run, shatter and even bubble to give it texture and form.
The Iris you see below, for example, is very difficult to do because you are putting dark against lite on plastic and confining edges. It's a very unique medium!
I came to Mexico 17 years ago from Iowa, and brought my watercolor experience with me.
I respect that medium, but I could not get the intensity of color or the fluidity that I was looking for. You can witness both of these things in the art I've provided below and in the Gallery.

Being a member of another art group for many years here in Ajijic gave me an arena to show and sell. Being a new member of The Lakeside fine Artists Guild is a step up to continue to paint with my inks on plastic!

I have received several blue ribbons, Best In Show and Peoples Choice acknowledgements!

The inks catch your eye and move you!
Samples of the Artist's Work
You can see more of this artist's work in our Members Gallery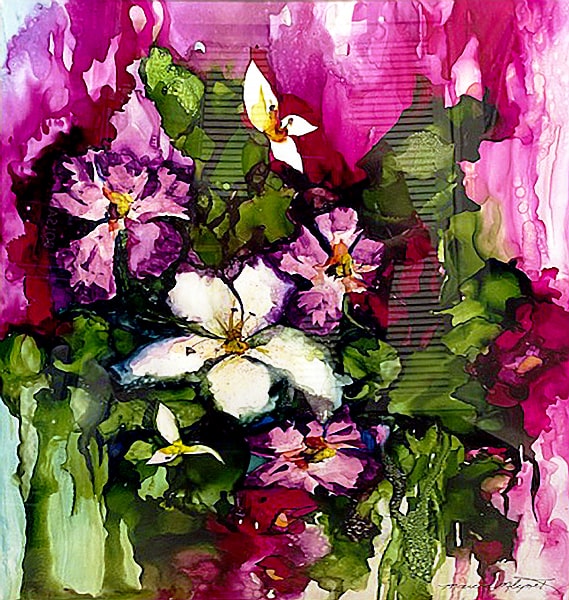 External Links for This Artist
Additional Resources on This Website
Other Guild Resources